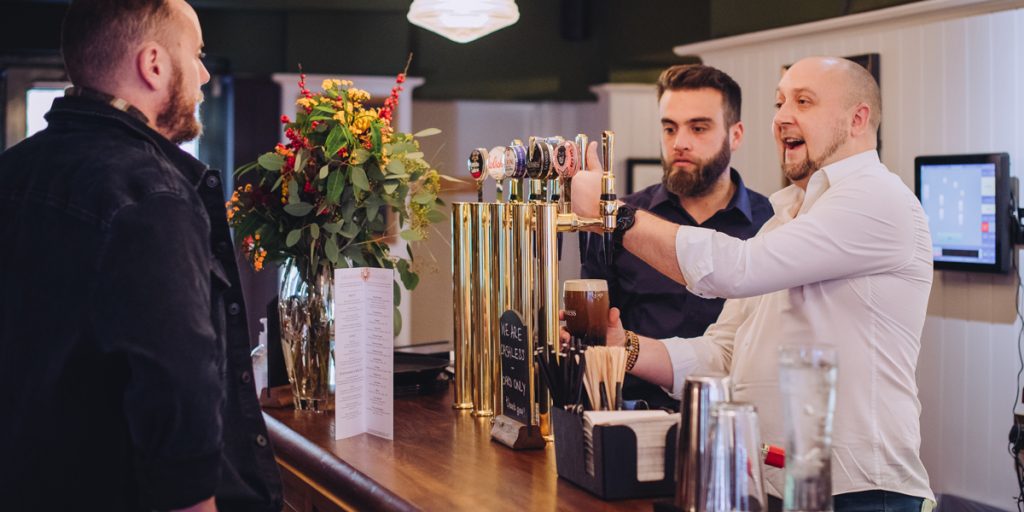 YOUR FAVOURITE LOCAL IN THE SURREY HILLS
Peach is a collection of really great pubs, mainly in market towns in the heart of England. The Drummond at Albury is a classic English village inn, in the Surrey Hills. As a quality gastropub, we serve great ingredients and fresh, honest food in relaxed, welcoming surroundings, always with a kind word and a sense of fun. Today we have twenty one pubs in lovely towns and villages, and an undimmed devotion to Making life Peachy. We have always been passionate about giving back and as we've developed and grown over the years, our ability and motivation to make the world a little better, a little peachier, has grown with us. The Bigger Peach shows our efforts to improve communities, equality in the workplace, and the future sustainability of our world. Our achievements were recognised in 2022, when we won Best Sustainable Pub Company at the Publican Awards, and we're also three star accredited by the Sustainable Restaurant Association. 
Soak up the sun, atmosphere and beautiful aesthetic whilst enjoying a bite to eat, a cocktail, or a glass of award-winning wine from our drinks list. We serve food all day and children are welcome to enjoy smaller portions of any of our dishes, or ask to see our children's menu. We take huge pride in serving the best ingredients we can find, from ethical producers, freshly prepared by our chefs. We're dog friendly in our bar and outdoor areas, bring your furry friend and stop by soon. On our bar you'll find a great range of spirits, beers and softs, so whether you pop in for a drink, a business lunch or a special dinner, we promise you a friendly welcome. Find us here.
We look forward to seeing you soon!
Thomas
---
Thomas Tolhurst, General Manager
Tom is completely and utterly food fixated! And perhaps growing up in such a close nit foodie family in Brighton has something to do with that. Up to 15 of them would gather weekly at his Nan's and have dinner together. This obviously not only inspired him to be a great cook but his brother too, as they obsessively exchange photos of their latest creations. Starting off his career on the slopes in Canada as a restaurant supervisor at 18, Tom's sense of adventure allowed him to combine his passion for snowboarding with hospitality. He made sure he enjoyed every little bit of it before flying to France for a stint as a rep there. Everyone needs a bit of sun before home. Tom earned serious stripes when he worked his way up to General Manager at The Star, an 800-year-old country Inn in Brighton, before hearing of Peach and moving to join us. Tom has an insatiable appetite for the business and when he's not working he's taking the team to London to seek out great pubs, tapas bars, and restaurants, old and new, in order to keep inspired and ahead of the game. Under that warm friendly exterior is an industry expert, dedicated to perfection and he's not bad on the drums either… 
---
Rafal Milarski, Head Chef
Rafal, originally from Poland, found his love for cooking at the young age of 8, when at home watching his Mother in the kitchen. At 15, his career in hospitality began, working in a renowned chef school, and by 18, he was discovering new tastes and flavours and his curiosity for cooking was well underway. Inspired by his family's tradition of cooking, the kitchen became his sanctuary, cooking with his Mother and absorbing the secrets of his heritage.
During his career, he has worked with many incredibly talented teachers who have influenced his journey, and being particularly fascinated by Marco Pierre White, in 2016, he moved to the UK. Working in a very busy kitchen, he quickly learnt and picked up new skills, and spent some time working with White Brasserie Group, a business focused on high-quality British food with a French touch. He progressed to Sous Chef before moving onto Head Chef at The Harbour Hotel, a large venue known for hosting large private dinners, buffets, and weddings, designing his own menus and running a kitchen team of 10.
Following his passion for fresh, high-quality food, he joined us in 2023, dedicated to living the value of always serving the good stuff, sourcing the best ingredients and providing exceptional guest experiences. In the future, he hopes to open his own restaurant with his fiancée, but in the meantime you'll find him serving great plates of food from our kitchen!
---

Sian Lewis, POD Director
Hospitality, and making sure everyone is really well looked after, are in Sian's genes. From helping her grandfather run the family B&B in the glorious Pembrokeshire countryside where she grew up to studying travel and tourism at Pembrokeshire College. She moved on to manage the two Rosette restaurant at The Maynard, a beautiful boutique hotel in the Peak District National Park, and laying on fantastic foodie events.
Her next home was The Ferry Inn, a fine watering hole, and then its lovely sister pub The Boar's Head in Narbeth, offering good food and hospitality in equal measure. When it was time for a change, Sian went to Hampshire to become deputy at our own sister pub The Chequers in Eversley Cross, quickly helping this gorgeous village local make its mark, before taking on The Duke of Wellington to make it the best for miles around. Acorn Award winner, Sian, has now been appointed from General Manager to Pod Director for our Surrey and Oxfordshire pubs.